Official Site of the Greenville County Golf Association
2017 Greenville County Golf Association Tournaments
UPSTATE Two Man Team Championship, May 20-21,
Greer Golf & Country Club
UPSTATE TWO MAN - ENTER/GET AN APP- CLICK HERE!
50th Annual Greenville County Amateur Championship, July 21-23,
Green Valley Country Club
Upstate Amateur Championship, August 26-27, Carolina Country Club

Todd birdies final hole to capture 4th Annual Upstate Amateur Championship...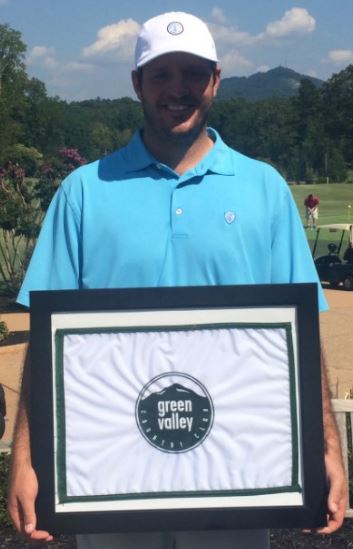 Final results...click here

Johnson shoots 70 in final round to win Greenville County Amateur...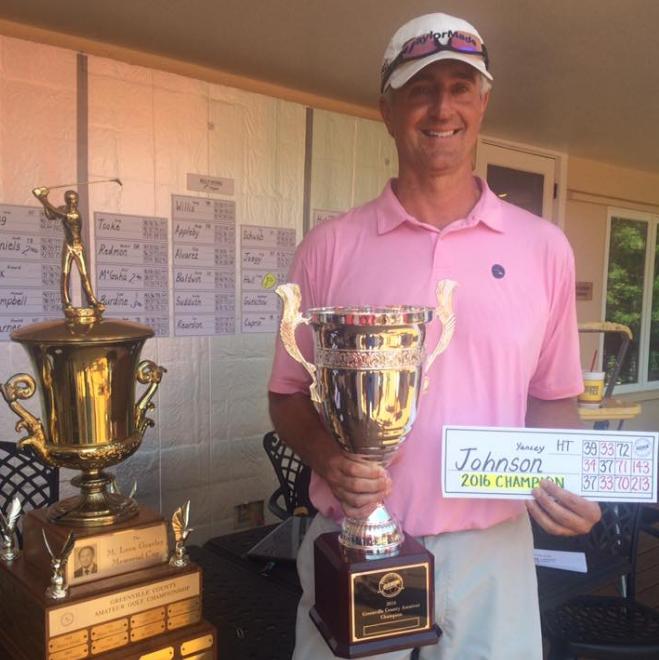 Yancey Johnson played solid golf for the 3rd straight day at the Preserve at Verdae posting a two under par 70 to win the 49th Annual Greenville County Amateur. His efforts earned him a three shot victory over Mike Hartin, Cory Slocum, and Bryan Newton, who had led going into the final round. One shot further back was Geno Berchiatti and former champions Chris Eassy & Marcus Grumbles. Robert Lutomski & Derrick Oyervides were next at 218, while Casey Owens, Matt Hopper, Tyler Tucker, and 2013 Champion Todd Hendley rounded out the top 10. The scores trended higher on Sunday, as Hendley, Oyervides, and Johnson were the only players in the field able to break par on Sunday and just four others matched it, including four time champ Mike Gravley.
Johnson was also the only player to be at or below par all three days with hs 72-71-70 scores. "There's a lot of great names on that trophy, guys I have looked up to and tried to work hard to be like them. To win this and have my name beside them is just very special." Johnson will now take the Leon Gravley Cup to his home course of Holly Tree for the next 12 months. Also heading back to Holly Tree will be the Allison Cup team trophy. Holly Tree pulled away from Thornblade to win, while the Verdae, Greer CC, and Fox Run teams were close behind.
CONGRATULATIONS TO YANCEY JOHNSON - 2016 GREENVILLE COUNTY AMATEUR CHAMPION!
2016 Greenville County Amateur - Final scores...click here

Hendley & Clontz capture 2016 Upstate Two Man Classic...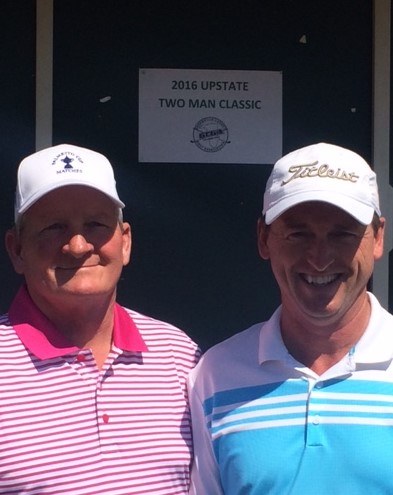 Next up: the 49th Annual Greenville County Amateur, July 22-24 at The Preserve at Verdae. Applications will be available this week!
2016 Upstate Two Man Classic final results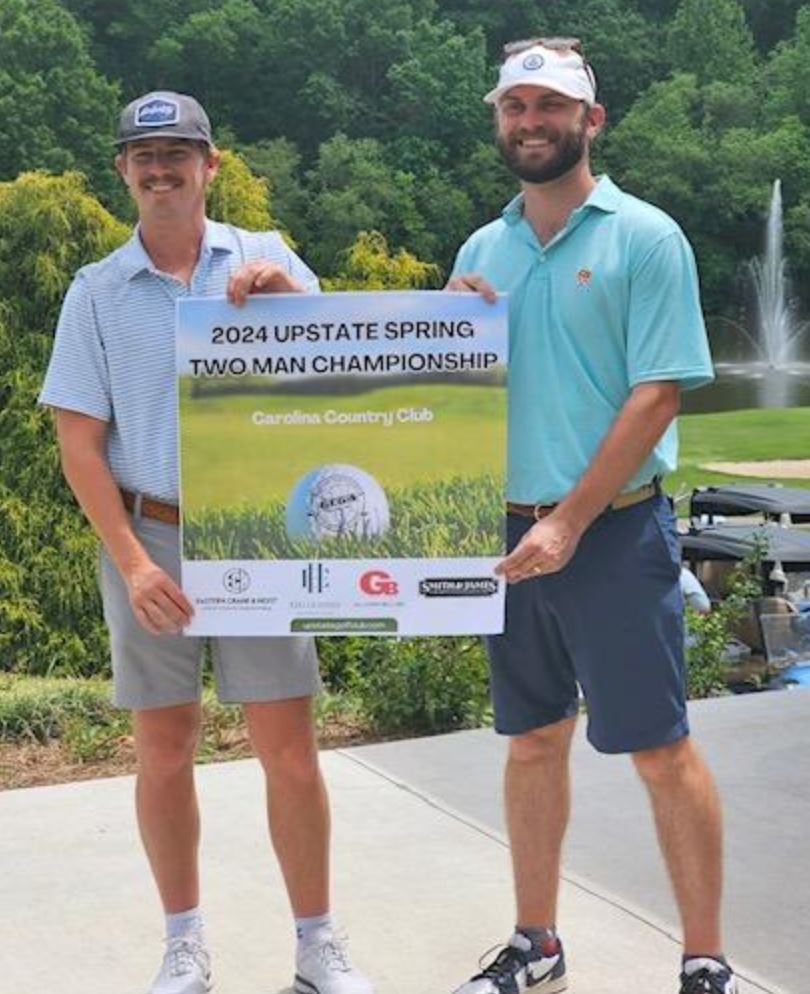 Team Greenville wins 2014 Cyder Cup Matches...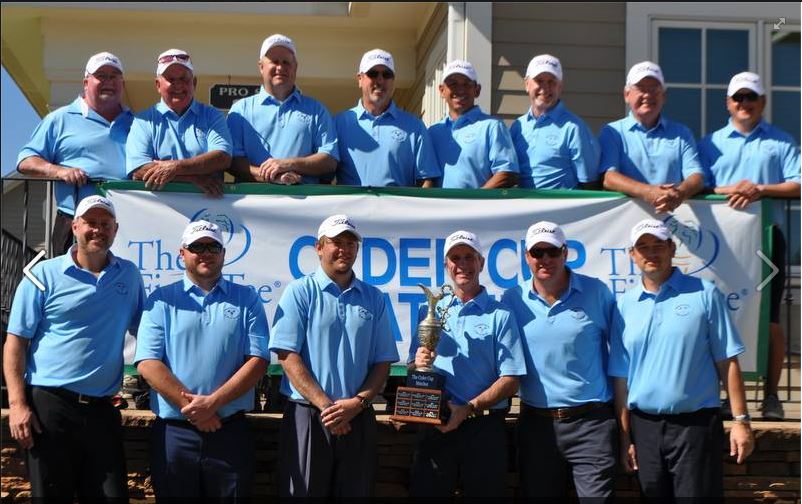 Kevin Roberts captures the 2014 Upstate Amateur Championship!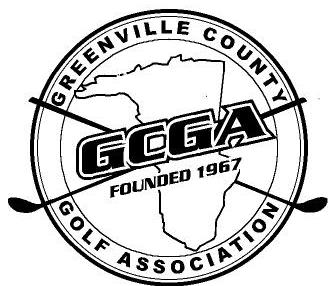 This is also the official web site of the Greenville County Golf Assocation. To go to the Greenville County Golf Association web pages....click the County golf logo!
Attention golf leagues!
The Upstate Golf Club handicap service is a great alternative to manual handicap tracking. Email Rob Gravley at robgravley@aol.com for pricing!
You will get volume discounts for your players, plus the handicap they get will make them a member of the SCGA,, CGA, and USGA for handicap purposed, and will make them eligible for all SCGA, CGA, and USGA amateur championships!


Click on the banner to visit our NEW store!!!


Specials thanks to Pepsi for their support!

The Green Valley Country Club
Home of the 50th Annual Greenville County Amateur Championship, Dates: July 21-23


| Tee Times & Scores | Tournament Tee Times | MEMBERS PAGE |

---
| Return Home | Contact Us | Downloads & Applications | Great Links | Greenville County Golf Association | Cyder Cup Match Results | 2013 Cyder Cup | Upstate Amateur Championship |