Garland Ferrell captures 2nd County Amateur in record scoring tournament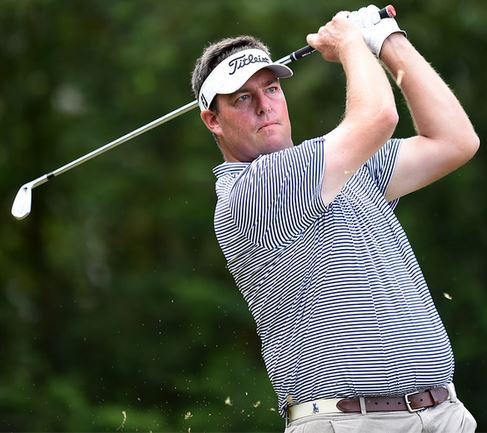 Nelson Dickson captures 2021 Greenville County Amateur!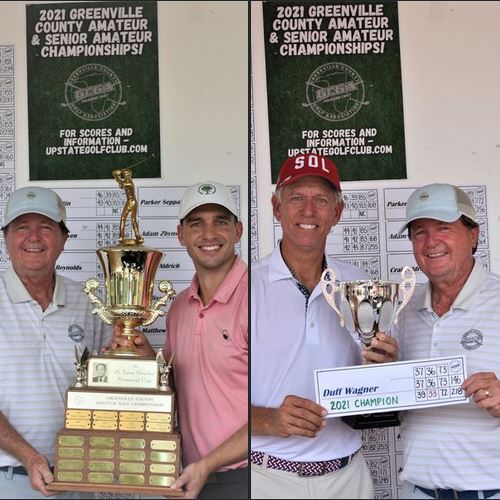 Eassy becomes three time County Amateur Champion!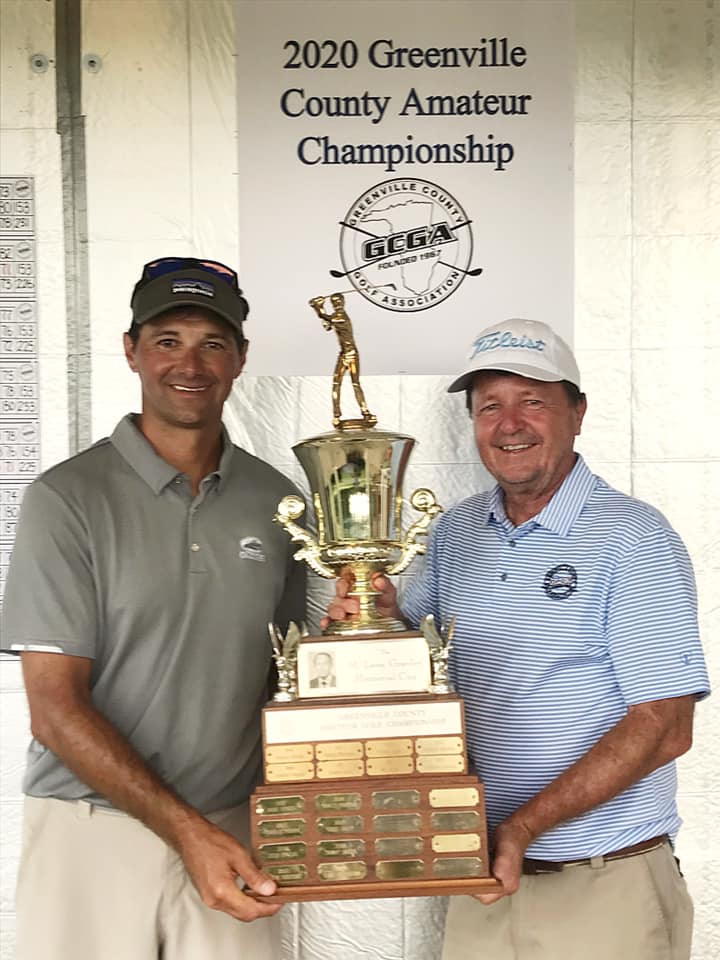 Cole Patterson wins County Amateur!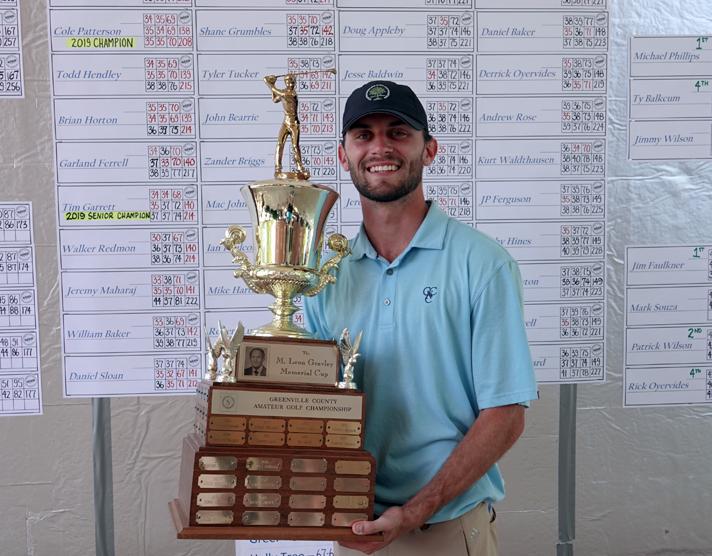 For complete scores, click here

Johnson shoots 70 in final round to capture the Greenville County Amateur
Yancey Johnson played solid golf for the 3rd straight day at the Preserve at Verdae posting a two under par 70 to win the 49th Annual Greenville County Amateur. His efforts earned him a three shot victory over Mike Hartin, Cory Slocum, and Bryan Newton, who had led going into the final round. One shot further back was Geno Berchiatti and former champions Chris Eassy & Marcus Grumbles. Robert Lutomski & Derrick Oyervides were next at 218, while Casey Owens, Matt Hopper, Tyler Tucker, and 2013 Champion Todd Hendley rounded out the top 10. The scores trended higher on Sunday, as Hendley, Oyervides, and Johnson were the only players in the field able to break par on Sunday and just four others matched it, including four time champ Mike Gravley.
Johnson was also the only player to be at or below par all three days with hs 72-71-70 scores. "There's a lot of great names on that trophy, guys I have looked up to and tried to work hard to be like them. To win this and have my name beside them is just very special." Johnson will now take the Leon Gravley Cup to his home course of Holly Tree for the next 12 months. Also heading back to Holly Tree will be the Allison Cup team trophy. Holly Tree pulled away from Thornblade to win, while the Verdae, Greer CC, and Fox Run teams were close behind.
CONGRATULATIONS TO YANCEY JOHNSON - 2016 GREENVILLE COUNTY AMATEUR CHAMPION!
2016 Greenville County Amateur - Final scores...click here

Siefert comes from behind to win 48th County Amateur Championship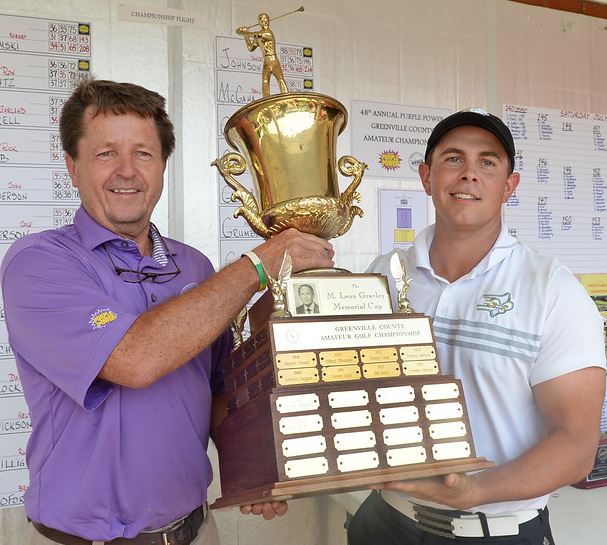 Limestone Men's golf coach fires a 65 in final round...
Zack Siefert made up a four stroke deficit with a seven under par 65 on an action filled back nine Sunday in the final round of the 48th Annual Purple Power Greenville County Amateur. Siefert edged Mac Johnson by two strokes to claim the championship when Johnson's long eagle putt on #18 slid just below the hole. It was Siefert's first County title, but he had to hold off a couple of former champions in Whit Suber & Chris Eassy as well.
Suber led the entire tournament after posting back to back 67's the first two days, until dropping back on the final nine, while Eassy rallied from seven shots back to within one of the lead until a bogey on #16 separated him from Siefert & Johnson. As the lead groups arrived at the 180 yard par 3 8th hole, Suber was threatening to run away with the Leon Gravley Cup as he was three under for the day to stand at -13 overall. That was four clear of Johnson and a whopping 6 ahead of Siefert. But a Siefert 18 foot birdie there and two straight three putts by Suber narrowed the margin to four with nine holes remaining. The back nine Siefert lit it up with a five under par 31, while a couple of bad holes by Suber set up the last 4 holes as a Siefert/Johnson/Eassy battle. "I've always wanted to win this tournament, and to do it on the course I grew up playing makes it very special", said Siefert, who is now the Head Golf Coach at Limestone College.
Thanks to everyone, especially the 190 players who participated in the State's oldest and most prestigeous (we think!) County amateur championship. Thank you as well to Purple Power for being our title sponsor the last three years and to Holly Tree and it's fine members for hosting us over this long weekend. It was a great venue and the course was in terrific condition. Finally, thank you to the excellent job by the GCGA tournament staff for their dedication, the long hours, and their desire to make sure the tournament is the best it can be.
We'll see you in 2016 at The Preserve at Verdae!
Greenville County Amateur Championship results - click here
Photos from Sunday's final round - thanks Gwinn Davis

Josh O'Neal wins county amateur championship for 2nd time...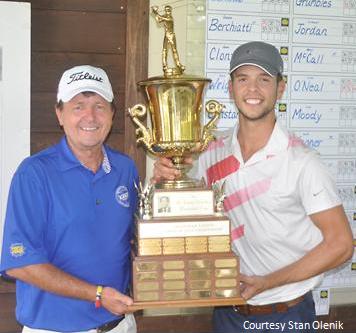 Fired a final round 66 to get the victory
Josh O'Neal fired a 6-under par 66 to win the 47th Annual Purple Power Greenville County Amateur Sunday at the Furman University Golf Course. With the win, O'Neal joins an elite group of Greenville County golfers that have won the championship more than once. He joins Tommy Gaul, Frankie Impson, Billy Hong, Chris Patton, Trey Bridwell, Tim Garrett, and this year's 3rd place finisher Bobby Hines as players winning twice. Hines won in 1996 & 1998. Bill Lovett won the event 3 times, while also competing this year was four time champion Mike Gravley, who finished 16th in the 141 man field. O"Neal won in 2012 at Bonnie Brae, but it may be a while before he has a chance at a third title, as he has plans to turn professional in the next few weeks.
Starting much earlier than the guys near the lead on Sunday because of his three over 75 on Friday, O'Neal quietly posted a sizzling 66, then had to sit under the Pavilion scoreboard area and wait it out. The perceived leaders were teeing off on #15 when O'Neal's 66 was posted, but it didn't take long for word to reach back out to the course that they were not only competing with each other, but a 3 under total had been posted. Zach Bishop and Hayden Garrett had come through 13 at two under and Hines at two over. Bishop fell off late with some putting misses, while Hines holed out from the fairway for an eagle at 15. Garrett also got a birdie at 15 to tie O'Neal at three under. But a bogey on the next hole and an 18th hole narrow miss on a long putt for a birdie gave O'Neal the championship. Garrett finshed in 2nd while Hines got third place alongside Bishop at even par 144.
Fox Run Country Club repeated as the winner of the Allison Cup team competition. The three lowest scores from member clubs are counted each day. Furman & Green Valley got 2nd & 3rd in the team competition.
Flight winners were as follows Dillard Traynham 1st Flight - Michael Polger, Cathead Stroud 2nd Flight - Joseph Fuller, and Michael Christie 3rd Flight - Brad Hawkins. Complete scores can be seen by clicking the link below!
To see a really nice video recap from The Golf Club SC's Facebook page click the link below.
NOTE- this year was the 1st time since 1994 that the championship was decided by 36 holes. The tournament went to a three day format in 1995 at Pebble Creek when Gravley won the last of his four titles. The complete 18 hole washout was the first time since 1977 when the final round at Paris Mountain Golf Club (now Summersett) was rained out. The golfers would return the next Sunday to play the final round as Lovett would win his first County Championship.
Thanks to everyone who participated, and to Furman University Golf Course for being such great hosts. A special thanks to Purple Power for being such a great presenting sponsor of the Greenville County Amateur!
Greenville News photos...click here

Hendley holds on to win County Amateur at Fox Run...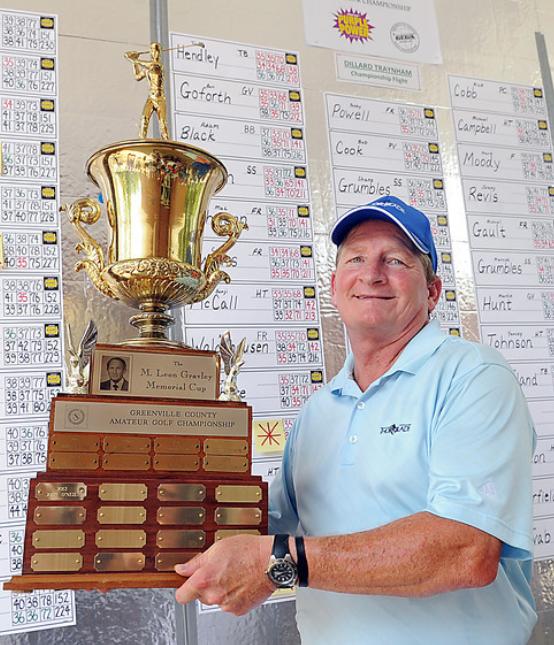 Thornblade's Todd Hendley held on Sunday afternoon to capture the Leon Gravley Memorial Cup after finishing 6-under for the tournament (70-68-72). He had several people chasing him and at one point even trailed on the back nine by one stroke. Casey Owens, a Fox Run member, used the familiar surroundings to take the lead following a Hendley bogey on the second nine but was unable to hold him off down the stretch. Mike Hartin was one shot back on the 18th hole but his second shot into the green found the bunker and was unable to get up and down for par to finish one shot back of the winner. It was quite an exciting tournament throughout as we had three first round leaders that shot 68 (Ben Goforth, Casey Owens and Benji McCall). Hendley, who finished second last year, held a one shot lead starting final round and his even par round was enough to capture the trophy.

The host course, Fox Run, captured the Allison Cup (team competition) over Holly Tree by 3 strokes. Thank you to our sponsor, Purple Power, for making the tournament a great success and look forward to continuing to improve the experience for the players. Thank you to David Fels and the entire staff at Fox Run for working so hard after all of the rain over the past month to put on a great tournament and being great hosts to us this weekend! Also, thank you to the best volunteer staff because without them the tournament would not be possible (Tracy Miller, Kevin Holtzclaw, Gary Vaughn, Nancy Daniels and Smokey Price). We appreciate the tremendous support by WSPA, Stan Olenik (The Golf Club), Ann Green & the Greenville News, Gwinn Davis and WYFF.


O'Neal birdies last hole to win at Bonnie Brae...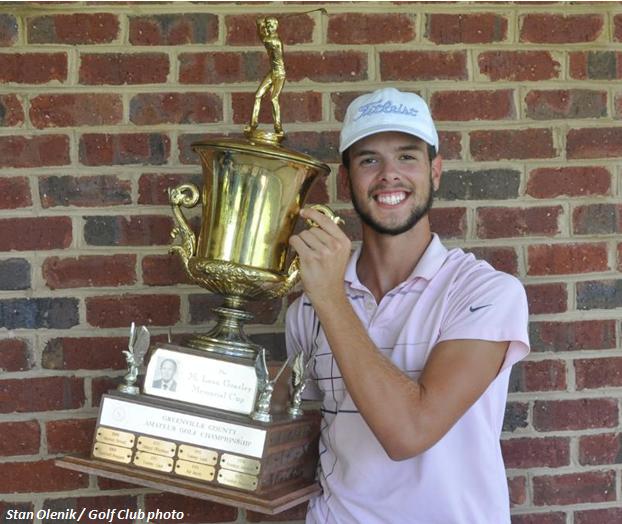 2012 Greenville County Amateur Champion Josh O'Neal
Complete 2012 results...click here

Grumbles wins at Pebble Creek...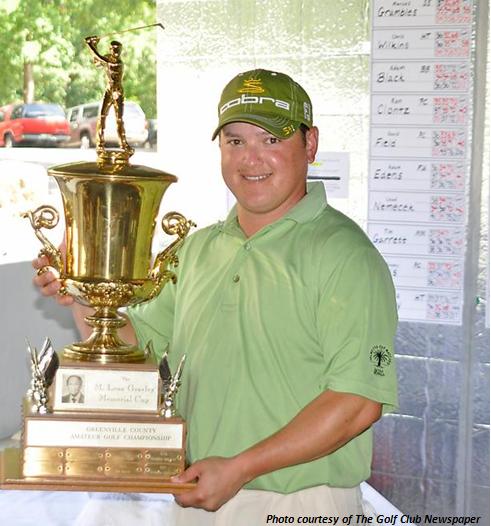 2011 Greenville County Amateur Champion Marcus Grumbles
Complete 2011 results...click here

Trey Bridwell becomes 2-time amateur champion...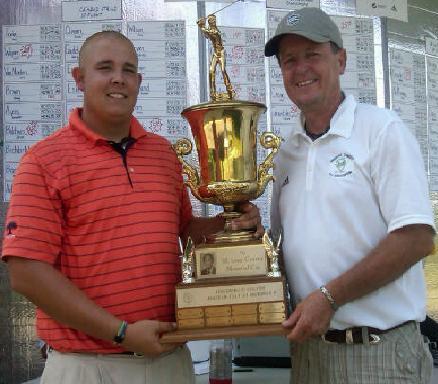 Greenville County Amateur Director Robbie Gravley (R) and 2010 Champion Trey Bridwell (L)
Complete 2010 results...click here

Chris Wilkins wins 2009 Amateur in playoff...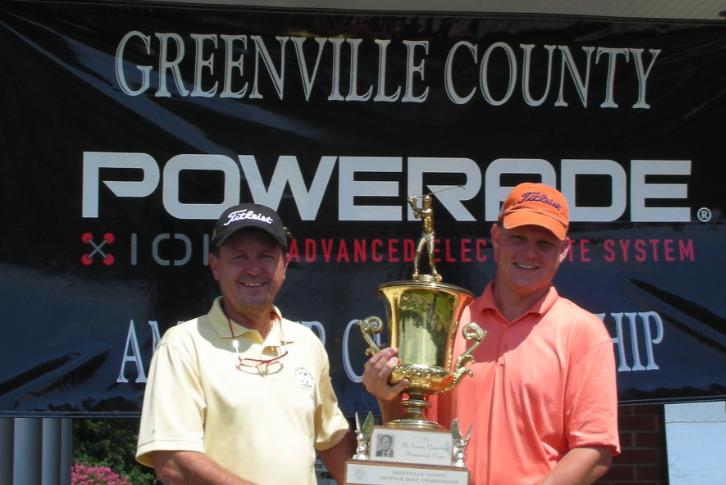 Greenville County Golf Association Director Robbie Gravley presents Leon Gravley Memorial Cup to Chris Wilkins
Complete 2009 results...click here

Bridwell runs away with 2008 Powerade Greenville County Amateur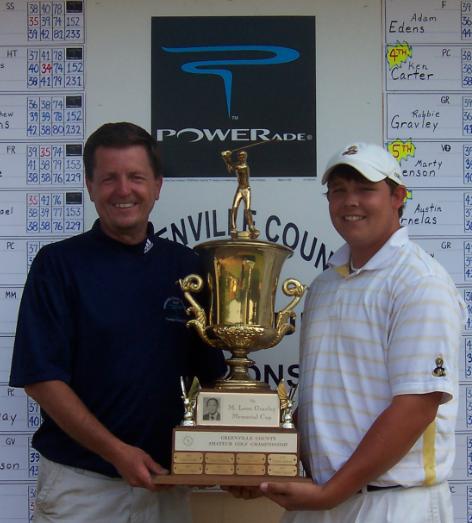 Greenville County Golf Association Director Robbie Gravley presents Leon Gravley Memorial Cup to Trey Bridwell.

Former Blue Ridge golfer wins by record 11 shots....

In most years things are tight and tense on the back nine of the Powerade Greenville County Am. Today it wasn't who was going to win, it was by how much. Greer Country Club's Trey Bridwell followed his spectacular 2nd round 66 - the low round of the tournament, with a more than solid 69 - a score that was matched by only one more golfer in the field, Herbie Sargent's opening round. By the time he calmly rolled in a 14 foot birdie on the difficult 17th hole, his lead reached double digits. His 8 under par total of 208 was 11 shots ahead of former Clemson golfer Zack Siefert and 2006 County Am champion Garland Ferrell. Siefert had the 2nd low round of the day with a 70. In 4th place was Thornblade's Todd Hendley, Summersett's Mikey Hartin, and 2002 Champion Jeremy Revis. Two-time champ Bobby Hines (1996 & 1998) tied Summersett's david Ellington at 5 over 221. Terry Willis, Stephen Kirven, and Jeff Jaeggi rounded out the top ten. Bridwell won a gift certificate, a crystal trophy, and posession at Greer Country Club for the next year the Leon Gravley Memorial Cup. Bridwell was excited about his victory. "First of all those guys I played against are great players and super nice guys. That makes this even more meaningful, because those are some of the best players in the Upstate. Getting my name on that trophy alongside all those great names is a lifetime achievement. This is such a great tournament and I am honored to win it."

At the conclusion of the tournament, Bob Murray was inducted into the Greenville County Golf Hall of Fame. Also Thornblade was awarded the Grady Allison Cup for the next year for winning the County Team title over the first 36 holes. On another note, the golfers in the tournament brought in 2739 new & used golf balls to give to the kids at The First Tee of Greenville. Dunlop Golf has agreed to match that total with new golf balls. Tournament Director Robbie Gravley also thanked Powerade for their involvement in the tournament, stating that the tournament will be able to give "significant" funds to The First Tee because of the excellent participation of the golfers, and especially from the partnership with Powerade.

The tournament committee wishes to thank all the players and fans that came out to Verdae Greens this weekend for the 41st Annual Powerade Greenville County Amateur. The course & staff at Verdae were fantastic. The golf was great and we did some good things for The First Tee. The players and committee also pass along condolences to the family of Cathead Stroud and to Dillard Pruitt and family in the recent loss of Fran Pruitt.
Final results of the 41st Annual Powerade Greenville County Amateur...click here.




Tim Garrett wins 2007 County Am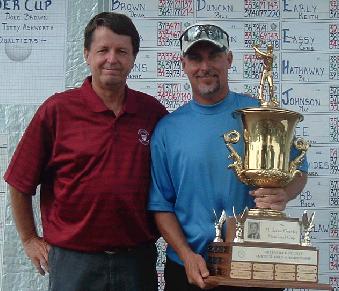 Tournament Director Robbie Gravley presents 2007 Champion Tim Garrett with the Leon Gravley Memorial Cup


Fox Run member goes wire to wire for 2nd County Am championship

Tim Garrett capped off a front running weekend on Sunday with a closing 71 to win the 40th Greenville County Amateur at Greer Country Club. Garrett, who won the 2005 title at Fox Run, led from start to finish. He opened Friday with a brilliant 64, just one shot off the tournament and course record set by Brent Delahousaye in 2001. Delahousaye shot a 63 in the first round in route to winning the last time the tournament was at Greer.

And although there were some tense moments on th back side, Garrett was never visibly shaken. Even after making double bogey on the testy 14th hole, he bounced right back with a two putt birdie at 15. Then after getting by the tough tee shot at 16 and making par, he iced the win with a birdie 2 on the challenging 17th hole, rolling in a 14 foot putt. In addition to holding off his own foursome of Trey Bridwell, Greenville County Cyder Cup Captain Doug Brown, and Benji McGaha, Garrett also had to ward off charges from Adam Black, a rising junior at Travelers Rest High Scool, and Greer member Marty Henson. Black followed his first two rounds of 71-70 with a Sunday 67. His score posted at -8 was briefly only one shot behind Garrett before the birdie at 15. Henson took the lead in the clubhouse after his 67 put him at -7. Black & Henson finished 2nd & 3rd, respectively. Bridwell, who will attend Coker College this fall on a golf scholarship was a sentimental choice from many of the Greer members. His sister Jennifer holds the ladies course record at Greer, while brohter in law Ryan Lucas is the current Head Pro at Greer. Bridwell & Benji McGaha tied for 4th at -6. McGaha was the tournament medalist on Saturday with a 67. Sunday's best score came from Tommy Ashworth with a 65. With that score, Ashworth went from 63rd to 14th place. Also of note, Bobby Hines won the Dillard Traynham First Flight while Asworth won the Michael Christie Second Flight. In all the top 25 players in the Billy Hong Championship Flight won gift certificates, while the top 5 won in the Traynham & Christie Flights.

After the tournament, the Grady Allison Cup was awarded to Summersett Golf Club for winning the team title on Saturday, and Tommy Gaul was officially inducted into the Greenville County Golf Hall of Fame.

Thank you to Kenny Brooks, Ryan Lucas, Rick Lister, the staff, the Board of Directors & members of the Greer Country Club for hosting this year's event and doing a marvelous job. Your $1000 gift to the First Tee of Greenville was AMAZING! Also special thanks to Pepsi and to Adidas Team Sports. And who could forget Martha in the kitchen! Thank you also to all the wonderful media coverage from the Greenville News, The Golf Club, The County Line, WSPA TV 7, WYFF TV 4, FOX 21, and The WORD on Golf at 1330 AM. Joey Patterson & Jerry Petty did a great job with the course set up! Thank you to all the volunteers who make everything go so smooth. Gary Vaughn, Lee Leonhardt, Kevin Holtzclaw, Dan Harvey, Butch Miller, Doug Brown, Steven Gay, and The First Tee of Greenville Director Nancy Daniel. And finally, perhaps the biggest thank you is to Assistant Tournament Director David Holtzclaw for his countless hours in virtually every area of the tournament. Thanks Holtz!

And to all the players and spectators we thank you for playing in the 40th Greenville County Amateur & we look forward to seeing you next year!



CONGRATULATIONS
Tim Garrett

2007 Greenville County Amateur Champion



Complete Final scores of the 2007 Championship........CLICK HERE!.




2007 Greenville County Golf Hall of Fame Inductee




TOMMY GAUL


1971 & 1972 Greenville County Am Champion
See the Hall of Fame...........CLICK HERE!

ALL FORMER CHAMPIONS........CLICK HERE!

Complete Tournament Results since 2002, click here





Garland Ferrell wins 2006 County Am!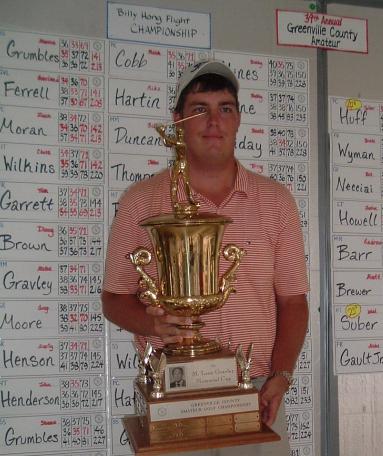 Ferrell holding the prestigious Leon Gravley Memorial Cup after firing back nine 30....



Furman golfer takes 1st County Am championship with 67 on Sunday.....

Garland Ferrell broke open a tight leaderboard Sunday afternoon at Pebble Creek Country Club in the 39th Annual Greenville County Amateur, blistering the back nine with a 6 under par 30. Ferrell trailed first & second round leader Marcus Grumbles by one shot after the first nine,, but Ferrell opened the back side with birdie, eagle, birdie, birdie to take control of the tournament. "There was not stopping Garland this afternoon", said Grumbles, who played in the tournament's final foursome for the second straight year. Defending Champions Tim Garrett shot a 69 Sunday to tie Grumbles for 2nd at -3 213, alongside Pebble Creek's Zack Moran, five shots behind Ferrell, whose rounds of 70, 71, and 67 was the best winning score since 2001-Brent Delahoussaye shot -13 at Greer Country Club in 2001. "I'm so happy to win" said Ferrell. "It's a great tournament and there are so many good players. To get this win means a lot". Four time County Am Champ Mike Gravley closed with a 71 to finish at even par 216 in fifth, while County Senior Champ Doug Brown was another shot behind in 6th.

Ferrell will take posession of the Leon Gravley Memorial Cup for the next year at Greenville Country Club, where he is a member. He will resume his position on the Furman University golf team this fall.

In the Grady Allison Cup team competition, Summersett took the Cup for the next year by edging Pebble Creek by one shot over the first two days. Holly Tree, Greer CC, and Musgrove Mill were 3rd-5th respectively.



Congratulations to Garland Ferrell......2006 Greenville County Am Champion!






2006 Inductee
to the
Greenville County Golf
Hall of Fame




D.B. EVANS




Awarded at the trophy ceremony at the conclusion of the tournament



Click here for final results...









Tim Garrett takes County title at Fox Run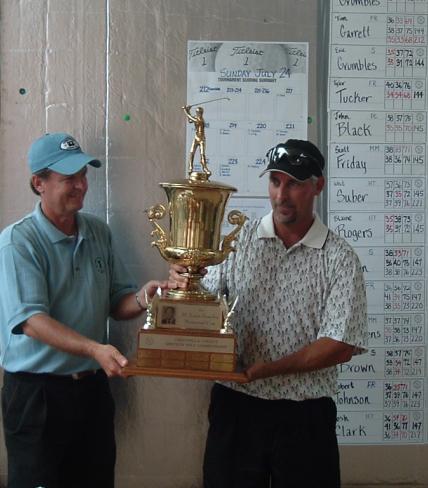 Tim Garrett won the 38th Annual Greenville County Amateur, played at Fox Run Country Club. Garrett was 4 shots off the lead heading into the final round but fired a 68 to win the tournament by 4 shots over Marcus Grumbles and Blaine Rogers. Fox Run won Grady Allison Cup for the team competition over Somersett.

Click here for complete results...


Chris Eassy wins 2004 Greenville County Am!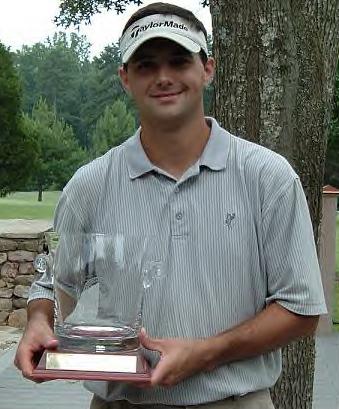 Eassy defeats Woodie Eubanks on first hole of sudden death playoff......

Chris Eassy started the final round with a one shot lead in the 37th Greenville County Amatuer Sunday. In the end, he made that stand, but not until a thrilling afternoon of golf at the Furman University Golf was complete. Eassy defeated Woodie Eubanks on the first hole of a sudden death playoff to capture his first Greenville County Am title.
Earlier in the day it looked as though Ryan Potter might take control of the tournament. Potter shot a 32 on the front nine to go to -7 for the tournament & take a two shot lead into the final nine over Eassy, and by three over Eubanks, who shot 33 going out to move to -4. Things would begin to change however, when Potter found the trees and bgeyed the par 5 11th and Eassy made birdie to tie Potter at -6. Eubanks then went bogey-birdie on 12 & 13. But when Eassy & Potter had their troubles on the par 3 14th, Eassy a bogey, and Potter a double, the leaderboard flipped to show Eassy -5, and Eubanks & Potter at -4. Eubanks showed his character by birdieing the 18th to force a playoff, while Eassy parred out.
On the extra hole, which started at the tough 13th hole, Eassy hit an iron 280 yards down the middle, while Eubanks drive, well past that, found the right rough. A six iron from 195 yards by Eassy landed just 8 feet away. That forced Eubanks to take a more aggressive line over the trees, but he came up short. His chip left a 12 foot par putt, which slid by. Eassy then two putted for the championship.
The top 10 finishers now qualify for the first ever "Cyder Cup" matches, to be held October 16-17 at River Falls, against the top players fro Spartanburg County. There will be two Captain's Picks for each team, to be announced later. Thanks to everyone who competed and attended this year's Greenville County Amateur, including all the media from The Greenville News, WYFF TV, WSPA TV, and the Golf Club magazine, who cover the tournament so well. Congratulations to the 2004 Champ Chris Eassy!!


Complete 2004 results...click here




Whit Suber claims 2003 County Am title!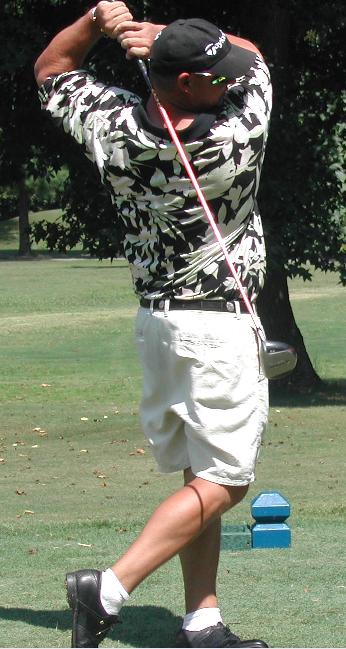 Gravley & Revis don't go away easily.....

Whit Suber claimed his second Greenville County Amateur title Sunday afternoon with a one shot victory over Mike Gravley. Suber led from wire to wire, opening with a pair of 68's, then closing with a 74 on the final round. Defending Champion Jeremy Revis started with a bang, birdieing five of the first seven holes to take a one shot lead before falling behind. Gravley & Suber were a shot apart going to 15, but bogeys on 15 & 16 put the four time champ Gravley three behind with two to play. Gravley rose up again, finishing birdie-birdie, with his 20 foot eagle putt on 18 just sliding by. Suber then two putted from eight feet for the win. "It's a great feeling", Suber said of the win. "The quantity of great players makes it even more special."
The 2003 tournament was another terrific tournament. Thanks to everyone who helped and played!! RG



Final Results
2003 Greenville County Am



Whit Suber 68 68 136 74 210
Mike Gravley 69 71 140 71 211
Jeremy Revis 69 73 142 70 212
Zack Siefert 76 69 145 67 212
Bobby Kline 69 75 144 70 214
Blaine Rogers 71 73 144 70 214
Shane Birchbichler 72 69 141 74 215
Mike Deshields 73 72 145 72 217
Woody Eubanks 75 70 145 73 218
Jim Justus 72 74 146 72 218
Chris Wilkins 73 73 146 72 218
Shane Grumbles 76 68 144 75 219
Tim Garrett 70 79 149 71 220
Britt Rogers 77 72 149 72 221
Robert Urness 71 78 149 72 221
Michael Gault 75 77 152 69 221
Tom Wilson 71 72 143 79 222
Jimmy Wilson 74 73 147 75 222
Thomas Barker 72 76 148 74 222
Rick Cobb 72 73 145 78 223
Bobby Hammersla 70 75 145 78 223
Bobby Hines 75 72 147 76 223
Steve Johnson 73 75 148 75 223
Bradley Jones 72 77 149 74 223
Geno Berchiatti 79 74 153 70 223
Tommy Ashworth 74 75 149 75 224
Marcus Grumbles 75 74 149 75 224
Shane Plumley 75 74 149 75 224
Ryan Emory 77 74 151 73 224
James Ferguson 73 74 147 78 225
Jeff Jaeggi 75 77 152 73 225
Chuck Thompson 78 74 152 73 225
Eddie Gault 76 70 146 80 226
Bill Bowers 76 74 150 76 226
Jeff Pennington 77 73 150 76 226
Robbie Gravley 74 76 150 77 227
Tim Schwab 75 75 150 77 227
Mike Hartin 79 73 152 75 227
Chad Nemechek 76 76 152 75 227
Wilson Lee 76 77 153 74 227
Michael Lawrence 80 76 156 71 227
John Black 73 78 151 77 228
Dennis Schwab 78 76 154 74 228
Michael Selvaggio 71 78 149 80 229
Eric Martin 72 78 150 79 229
Nick Fox 74 78 152 77 229
Ryan Potter 80 72 152 77 229
Michael Spier 76 76 152 77 229
Bill Duncan 78 69 147 83 230
Roger Page 77 75 152 78 230
Todd Reid 76 76 152 78 230
Scott Friday 78 76 154 76 230
Ryan Hedley 78 74 152 79 231
Bill Hathaway 78 77 155 77 232
Dean Nance 80 77 157 75 232
Kirk Myers 76 82 158 74 232
Marty Henson 71 79 150 83 233
Randy Donovan 75 77 152 81 233
Johnny Pope 75 77 152 82 234
Doug Tooke 76 80 156 78 234
Mark Hall 78 72 150 85 235
David Ellington 79 80 159 76 235
Doug Brown 78 74 152 84 236
Pat Morris 80 74 154 82 236
Mark Souza 77 81 158 78 236
Doug Ramey 77 79 156 81 237
Kevin Yancar 77 76 153 85 238
Barrett Wood 77 77 154 84 238
Jessie Kinnunen 79 76 155 83 238
Ben Shadoan 76 81 157 81 238
David League 78 78 156 83 239
Michael Knowles 82 75 157 83 240
Bill Fedder 76 82 158 82 240
Barry Beeks 80 79 159 81 240
Mike Minyard 77 82 159 81 240
Rob Carlisle 77 77 154 87 241
Tom Hawkins 76 81 157 84 241
Jay Thomason 79 78 157 84 241
Lanny Alverson 75 83 158 84 242
Ian Barwick 78 81 159 83 242
Scott Benbenek 78 81 159 84 243
Adam Edens 77 82 159 84 243
Derrick Wallace 81 78 159 84 243
Chris Gardner 81 78 159 85 244
Failed to Qualify
Brad Hawkins 74 86 160
Pat Patton 81 79 160
Harrison Rapp 81 79 160
Matt Brewer 83 78 161
Tyler Huff 82 79 161
Sam Postich 80 81 161
Andy Price 77 84 161
Randall Smart 83 78 161
David Younts 81 80 161
Jeff Gardner 81 81 162
Jeff Holder 75 87 162
Steven Kirven 83 79 162
Daniel Constantino 84 79 163
Richie Freeland 79 84 163
Victor Huskey 82 81 163
Rob Johnson 80 83 163
Yancey Johnson 79 84 163
John Landreth 78 85 163
John Ellis 84 80 164
Dan Gillig 77 87 164
Willie Huff 81 83 164
Joey Patterson 80 84 164
J.R. Schmidt 82 82 164
Andrew Wood 77 87 164
Ross Ellis 83 82 165
David Finholt 84 81 165
Ken Grant 82 83 165
Bob Martin 86 79 165
Shawn Venable 77 88 165
Buddy Aiken 79 87 166
Chris Maxon 86 80 166
Ralf Norton 83 83 166
Rick Vieth 78 88 166
Laney Younts 80 86 166
Ty Balkcum 89 78 167
Terry Blanton 81 86 167
Chuck Cecil 79 88 167
Mark Cochran 83 84 167
John Grissop 84 83 167
Einhin Harmon 78 89 167
Mike Forrester 85 83 168
Eddie Edmonston 81 88 169
Scott Gordon 82 87 169
Russell Radel 85 84 169
Jeff Paxton 82 88 170
Jerry Petty 85 85 170
Andy Pihl 85 85 170
Andy Bennett 84 87 171
Will Mauney 85 86 171
Jake Smith 82 89 171
Bryan Tankersley 87 84 171
Chuck Wilkins 77 94 171
Craig Brown 88 84 172
Bryan Rice 88 84 172
Chris Cooper 84 89 173
Matt Covington 89 85 174
Doug Dietz 89 85 174
Dwayne Divers 86 88 174
Jerry Cobb 90 87 177
Tyler Elmendof 92 85 177
Bill Dean 90 88 178
Mark Dutch 89 89 178
Edward Guy 91 88 179
Todd Sanders 88 91 179
Bill Yarborough 90 89 179
Larry Campbell 88 92 180
Chris Moffatt 88 92 180
Brent Reese 89 92 181
R.J. Beach 90 92 182
Tom Coan 95 89 184
Kevin Roberts 97 87 184
Mark Thigpen 88 98 186
Landrum Johnson 107 83 190
Pat Hart 96 101 197
Andrew Barr 88 NC
Tommy Boyter 84 NC
Kenny Brooks NC NS
Phil Collins 91 NC
Michael Edwards 77 DQ
Dean Gosnell 86 DNF
Tony Makinson 78 W/D
Dana Oldam 83 NS
Dan Phillips 104 92 196
Bo Ream 90 DNF
Jason Sharpe 89 NC
Adam Shealey NC NC
Lee Zettlemoyer 82 NC
Adam Shealey NC
Chad Nemechek 76
Adam Shealey NC




2002 Greenville County Amateur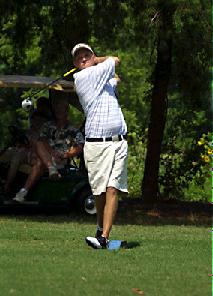 Revis Wins in Dramatic Finish!!
Jeremy Revis captured his first Greenville County Amateur Sunday afternoon at Pebble Creek in one of the tournament's most exciting finishes ever. Revis edged Rick Cobb on the first hole of a sudden death playoff after both golfers finished at five under par for the 54 hole event. Four time champ Mike Gravley, who rallied from three down to take the lead on the back nine, finished a single stroke back at -4. They were followed by Shane Birchbickler, and the bother duo of Shane & Marcus Grumbles. Cobb & Revis went to the last hole, #9 of the Creekside course, with Revis leading by one & Gravley two back. (the golfers played Pebble Creek's original 18 holes Sunday, a combination of the two courses-play began on #1 Linkside through #4, then went up to #14 through #18 for the front nine, then finished on the Creekside front nine, including two superb finishing holes, the 191 yard eighth hole, completely over water, and the 454 yard ninth, a dogleg right with a severly sloped green guarded by out of bounds and a creek.) Gravley had been at seven under, minus six for the day, when his approach on the 16th, the Creekside #7 hole, found the water. "I miscalculated the distance there", Gravley said. "I had it at 97 yards and it was actually 107.....it came up about 6-8 yards short". He double bogeyed there and a short par putt on the next lipped out, to doom his chances. Revis hit it to about 40 feet at the last, while Cobb hit a spectacular approach to within 12 inches of the cup. Revis, with a one shot lead, then proceeded to roll up to within two feet, where he missed. His lip out opened the door for Cobb to tap in and win the tournament outright. After marking his ball, a la last year's U.S. Open, he too missed, having to rally in a four footer for the tie. He made that one, setting up the playoff. They returned to Creekside 9 for the playoff. Revis hit it down the middle and long, while Cobb found the right rough. He then hit into the left fringe, while Revis hit safely to the left of the pin, about ten feet closer than a few minutes earlier. Cobb's chip went by about eight feet, and Revis nearly holed his birdie, tapping in for a par. Cobb's par putt slid just below the hole, giving the championship to Jeremy Revis. Here are the full field scores of the 83 players who made the cut. Wow, what a great tournament! Looking forward to the next one. Thanks to all who played, watched, or just kept up with the action!

Final results
Jeremy Revis** 74 65 71 210
Rick Cobb 70 69 71 210
Mike Gravley 69 73 69 211
Shane Birckbichler 74 69 70 213
Shane Grumbles 74 66 73 213
Marcus Grumbles 70 69 76 215
Ben Duncan 71 73 73 217
Doug Ramey 70 74 73 217
Geno Berchiatti 76 71 72 219
Thomas Barker 75 72 73 220
Bob Hammersla 73 75 72 220
Matt Mead 73 74 73 220
Bill Bowers 78 71 72 221
Jeff Blankenburg 74 75 73 222
Woodie Eubanks 72 72 78 222
Mike Gault 74 70 78 222
Pat Morris 76 71 75 222
Charley Askins 74 73 76 223
Brad Easler 78 69 76 223
Robbie Gravley 76 74 73 223
Daniel Sloan 71 71 81 223
Tom Wilson 74 75 74 223
Ryan Emory 79 70 75 224
Christopher Towery 72 75 77 224
Jim Wilson 79 73 72 224
Mike Burton 76 78 71 225
Scott Friday 73 76 76 225
Dennis Schwab 78 72 75 225
Terry Willis 76 76 73 225
Jason Huguet 77 73 76 226
Whitt Suber 78 74 74 226
Josh Clark 76 76 75 227
Zack Moran 79 74 74 227
Robert Urness 79 71 77 227
John Black 71 81 76 228
Beau LaCount 75 73 80 228
Cary Sanders 75 71 82 228
Leland Crim 81 76 72 229
Mike DeShields 77 76 77 230
Gary Gaddy 80 72 78 230
Mike Hartin 83 71 76 230
Steven Kirven 74 76 80 230
Ben Shadoan 78 77 75 230
Tripp Welch 82 77 71 230
Bobby Hines 76 77 78 231
Darrell Jones 74 80 77 231
Andy Price 84 71 76 231
Randy Donovan 78 73 81 232
Todd Hendley 76 77 79 232
Marty Hinson 79 76 77 232
Bradley Jones 72 74 86 232
Bob Martin 79 76 77 232
Will Seidell, III 83 74 75 232
Frank Wrenn 75 79 78 232
Bill Hathaway 77 79 78 234
Jessie Kinnunen 73 79 82 234
Chuck Merritt 81 78 75 234
Joey Patterson 79 79 76 234
Adam Shealy 79 78 77 234
Lewis Kay 82 76 77 235
Lee Zettlemoyer 76 81 78 235
Matt Brewer 82 77 77 236
Mark Hall 80 78 78 236
Elliot Keller 79 79 78 236
Duff Wagner 74 80 82 236
Jerry Wing 81 78 77 236
Jay Belk 76 83 78 237
Kevin Johnson 82 78 78 238
Jared Cost 77 73 89 239
Mark McCormick 77 82 80 239
Todd Reid 85 75 79 239
Sam Brooks 84 76 80 240
Tyler Burdine 77 73 90 240
Bo Ream 82 77 82 241
Britt Rogers 82 78 82 242
Barry Beeks 79 81 83 243
Kyle Blakley 81 76 86 243
Mike Henry 82 77 85 244
Ralf Norton 76 82 86 244
Todd Sanders 82 77 85 244
John Pope 83 75 87 245
Kevin Yancar 80 80 90 250
Doug Brown NC
** Won Playoff

CLICK HERE: What really happened to Flight 007?

CLICK HERE: 007 Rescue Home Page





























| Greenville County Amateur sites | 2004 Greenville County Amateur Scores | 2006 Greenville County Amateur Scores | 2007 Greenville County Amateur Scores | 2008 Greenville County Amateur results | 2009 Greenville County Amateur results | 2010 Greenville County Amateur results | 2011 Greenville County Amateur results | 2012 Greenville County Amateur Results | 2013 Greenville County Amateur Results | 2014 Greenville County Amateur Results | 2015 Greenville County Amateur Results | 2016 Greenville County Amateur results | 2017 Greenville County Amateur results | 2018 Greenville County Amateur results | 2019 Greenville County Amateur results | 2020 Greenville County Amatuer results | 2021 Greenville County Amateur results | 2022 Greenville County Amateur results | 2023 Greenville County Amateur Championship Scores |

---
| Return Home | Contact Us | Downloads & Applications | Greenville County Golf Association | Greenville County Amateur | The Cyder Cup Matches | Upstate Amateur Championship |