2020 Upstate Senior/Mid Am Championships
Tee Times
UPSTATE SENIOR/MID AMATEUR CHAMPIONSHIP
8:30 Dean Beckley
Richard Coon
TJ Setro

8:40 David Brennan
Tracy Miller
Scott Hughes

8:50 Pat Morris
Rick Oyervides
Jack Kauer

9:00 Rick Cobb
Terry Willis
Dan Gaither
Mike Putman

9:10 Jimmy Wilson
Tom Owens
Roger Page
Robbie Gravley

9:20 Joey Patterson
Bobby Ream
Marty Henson
Ron Clontz

9:30 Satish Rajanala
Chris Earl
Mark Good

9:40 John Woolston
Freddie Page
Dan Constantino
JP Ferguson

9:50 Eric Grumbles
Kenny Wilson
Marcus Grumbles
Joe Tucker

10:00 Benji McGaha
Cory Taylor
Michael Powell
Jesse Kinnunen

10:10 Tyler Macolly
Mike Hartin
Bo Ream
Shane Grumbles

2020 Upstate Senior / Mid Am Championships
Saturday scores
Upstate Senior Championship - Saturday

Ron Clontz - 73
Marty Henson - 73
Bobby Ream - 74
Joey Patterson - 75
Robbie Gravley - 76
Roger Page - 77
Tom Owens - 81
Jimmy Wilson - 81
Mike Putman - 82
Dan Gaither - 82
Terry Willis - 83
Rick Cobb - 84
Jack Kauer - 85
Rick Oyervides - 87
Pat Morris - 89
David Brennan - 91
Tracy Miller - 93
Scott Hughes - 94
TJ Setro - 95
Richard Coon - 99
Dean Beckley - 99

Upstate Mid-Amateur Championship - Saturday

Shane Grumbles - 67
Bo Ream - 69
Mike Hartin - 71
Tyler Macolly - 75
Jesse Kinnunen - 76
Michael Powell - 76
Cory Taylor - 78
Benji McGaha - 79
Joe Tucker - 80
Marcus Grumbles - 80
Kenny Wilson - 80
Eric Grumbles - 82
JP Ferguson - 82
Dan Constantino - 82
Freddie Page - 87
John Woolston - 90
Mark Good - 95
Chris Earl - 95
Satish Rajanala - 102

COVID-19 Guidelines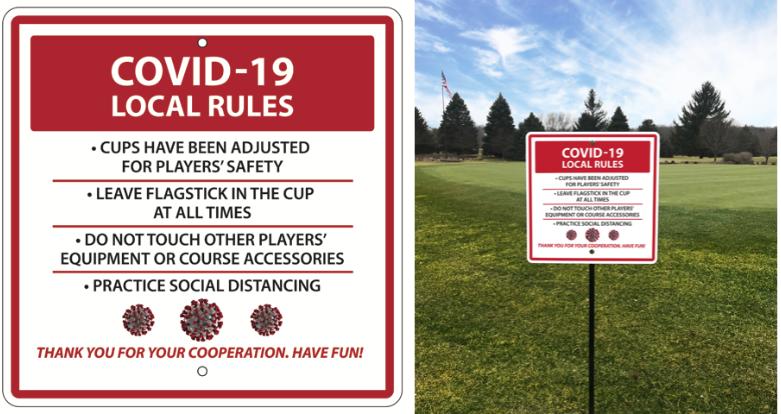 1- You may ride in a golf cart with only your playing partner.
2- Avoid the traditional handshake with everyone. Break the ice with a tip of your cap, an air five, etc.
3- No raking bunkers. We will allow you to lift your ball, smooth a spot with your foot, then place the ball in the bunker within a scorecard length from the spot, no closer to the hole. (if possible) If not possible, then the minimum amount possible.
4- Practice social distancing. The President's guidelines reccommend keeping at least a 6 feet distance apart. Sneeze or cough into your shoulder. No spitting.
5- It is reccomended that you leave the flagstick in the hole. If you must touch the flagstick, do so with a towel or santitary wipe.
6- ONE player per foursome will be designated as the official score keeper for the group. No one else will touch the scorecard. When checking the card , each team will have a person initial the card to attest. The scorekeeper's signature and competitor's initials will serve as signing the card for both teams.
7- Suncreen, tees, markers, and pencils will not be provided. If you require any of these items, please come prepared with your own.
8- Only one player will be allowed in the scoring area at a time. Please stay in the vancinity of the scoring area until a tournament official gives you the okay or has posted your score.
9- Flights and Sunday pairings/times will be posted within an hour of completion of the day's play at www.upstategolfclub.com.
11- We look forward to a fun, safe, weeekend at Legacy Pines!!


| Upstate Spring Team Championship Tee Times | Greenville County Amateur - Tee Times | Upstate Am Tee Times | Upstate Fall Team Championship Tee Times |

---
| Tee Times & Scores | Tournament Tee Times | MEMBERS PAGE | Great Links |
---
| Return Home | Contact Us | Downloads & Applications | Greenville County Golf Association | Greenville County Amateur | The Cyder Cup Matches | Upstate Amateur Championship |