Tommy Ashworth wins 4th annual Upstate Mid-Am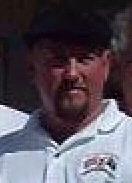 Fox Run golfer wins going away.....

Tommy Ashworth capped off a terrific 2004 by taking the crown at the Upstate Mid-Amateur this past weekend at River Falls. He opened the tournament with a 72 in the cold & wind on Saturday to take a three shot lead over Pebble Creeks' Bill Hathaway, and another over Jeff Jaeggi of Carolina Springs. Defending Champion Doug Tooke led five players another shot back at 77. The group included Mike Minyard, Stephen Kirven, Bobby Kline, and Duff Wagner. Wagner was near the top of the leaderboard at one over par going to 17, but finished bogey-triple to fall back.
On Sunday, although the wind didn't blow as much, the conditions were much colder, and the wind picked up as the day wore on. The slick River Falls greens got more treacherous as the day went on as well. Ashworth was solid all day though, and soon stretched his lead to five, and then six. But with the lead down to four goig to 16, he birdied 16 & 18 to close out the win with a final round 73. The 73, like the Champ's 72 in the first round, was the low score of the day. Stephen Kirven, also from Pebble Creek, shot a final round 74 to join Hathaway in a tie for 2nd place at 151. Tooke defended his 2003 title well, finishing 4th, while 2001 champion Bill Duncan rounded out the top five.
Ashworth, who won four other tournaments this year, also helped his Greenville County team capture the first ever Cyder Cup Matches at River Falls back in October. "Those conditions out there Saturday were especially brutal", Ashworth said on Sunday afternoon. "I felt like it was a three shot wind, in other words, in my mind my even par score was three under.
There were some good players in this field, and as you can see with the scores, it was tough. I'm just very happy to win this thing and close out a great year."
Thanks to everyone who helped, and to everyone who played. The tournament will be at River Falls again next year, and we are considering a date change. Please let me know if you are 30 or older, in other words, tournament-eligible, and have an opinion on the best date for this tournament. Click here to send a suggestion. We are committed to making this a premier event in the Upstate that fills to capacity each year.

CONGRATULATIONS TO THE WINNER OF THE 2004 ROCKING CHAIR TROPHY........TOMMY ASHWORTH!!







2003 Upstate Mid-Am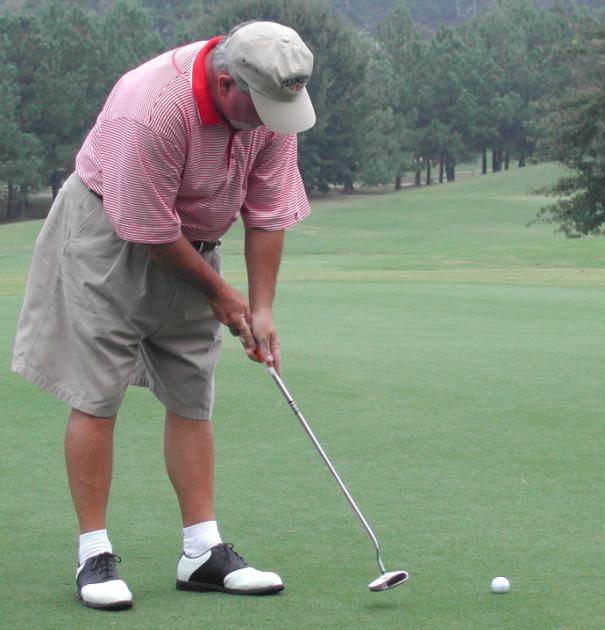 Doug Tooke putts on #18...this birdie won the Upstate Mid-Am!!

Doug Tooke won the 3rd Annual Upstate Mid-Amateur championship Sunday afternoon at Southern Oaks with a closing 72 to finish at five under par 139. He beat Mike Gravley, Jimmy Wilson, and '01 champ Bill Duncan by one stroke. Tooke's opening 67 made him too tough to catch. Gravley opened Sunday with four birdies in his first five holes and finished with a 68. Tooke had come to the par 5 15th at seven under, but left with a double bogey. Gravley birdied the same hole to move to -5, and both he & Tooke would bogey 16. At the closing hole, Tooke & Gravley were at -4, while Wilson & Duncan were at -3. In the group ahead, Gravley's second shot to the par 5 was long, and his 12 foot birdie putt slid by. Tooke, Duncan, and Wilson would all birdie 18, with Tooke holing 1n eight foot putt to claim the championship. "I wasn't sure that I would ever get to experience winning again", said Tooke afterwards. "I started running out of gas there at the end, but I made the birdie when it counted." This year's tournament had a Senior Division for guys older than 50. Tooke not only won that, but beat the 30 & olders too. Special thanks to Wayne Myers and the staff at Southern Oaks, and to everyone that played! RG

Upstate Mid & Senior Amatuer scores...

Doug Tooke 67 72 139
Bill Duncan 69 71 140
Jim Wilson 70 70 140
Mike Gravley 72 68 140
Pat Morris 72 70 142
Joey Patterson 70 73 143
Wilson Lee 70 73 143
Bobby Kline 72 71 143
Tim Garrett 71 73 144
John Pope 71 75 146
Todd Reid 73 74 147
Marty Henson 74 73 147
Jason Martin 74 73 147
Doug Brown 77 70 147
Todd Remillard 74 74 148
Mike Minyard 77 71 148
Bobby Hines* 74 75 149
Shane Grumbles 78 72 150
David Ellington 77 74 151
Michael Infante 78 73 151
Bob Martin 72 81 153
Lee Zettlemoyer 76 77 153
Terry Blanton 77 76 153
Eddie Gault* 77 76 153
Daniel Constantino 78 75 153
Ricky Perry 78 75 153
Robbie Gravley 73 81 154
Bill Dean 77 77 154
Brian Tankersly 80 75 155
Jeff Perry 74 83 157
Dave Finholt* 78 79 157
Randall Smart 78 79 157
Mark Lankford* 78 80 158
Mike Reuwer* 78 80 158
Sam Postich 78 81 159
Joel Duncan* 78 83 161
Boyd Mills* 80 81 161
Adam Shealy 77 85 162
Joe Warren* 81 81 162
Jerry Petty 79 84 163
Mike Whitaker* 92 74 166
Mike Sczepanik* 88 79 167
Phil Collins* 84 85 169
Ricky Roach 84 85 169
Craig Brown 86 83 169
Tim Ward 85 85 170
Bill Yarborough 84 89 173
Tripp Merritt 89 88 177
Landrum Johnson 83 100 183
Jerry Woodruff* 82 WD
Ty Porter 86 WD
Tom Kubic* 89 WD
Rob Johnson* 93 WD

FLIGHT WINNERS
Championship
Doug Tooke
Jimmy Wilson
Mike Gravley
Bill Duncan

First
Marty Henson
Doug Brown
Jason Martin
Mike Minyard

Second
Shane Grumbles
Michael Infante
Ricky Perry
Daniel Constantino

Third
Ricky Roach
Mike Whitaker
Mike Scezpanik
Craig Brown









2002 Upstate Mid-Amateur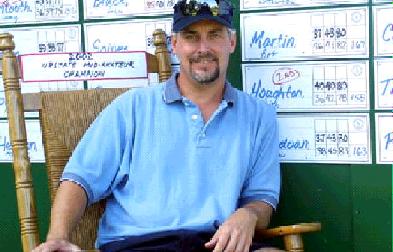 Garrett makes up five shots with steady par 72

Tim Garrett of Simpsonville won the 2nd Annual Upstate Mid-Amateur Championship Sunday at Furman University Golf Course, with a dramatic come from behind victory over Greer's Doug Ramey. Garrett, who trailed Ramey by five shots entering Sunday's final round, shot an even par 72, to match his Saturday round, gave him a 36 hole total of even par, 144. Ramey had blistered the Furman layout on Saturday with a five under 67, which included a 32 on Furman's tough back nine. The two came to the par 4 18th tied, but a miss from close range by Ramey, and a par by Garrett claimed the championship. Bill Bowers of Taylors, and Steven Lindsay of Greenville tied for third at 148.

Flight Winners:
Championship
1-Tim Garrett 72-72-144
2-Doug Ramey 67-78-145
3-Bill Bowers 75-73-148
4-Steven Lindsay 73-75-148

First Flight
1-Barry Mullinax 76-75-151
2-Jim Wilson 76-75-151
3-Jim Mantooth 77-75-152
4-Jim Barnette 79-74-153

Second Flight
1-David Fagg 80-75-155
2-Rich Houghton 80-78-158
3-Rob Johnson 80-78-158
4-Robert Thompson 82-81-163

Third Flight
1-Barry Beeks 83-75-158
2-Terry Willis 84-78-162
3-Mike Minyard 83-80-163
4-Danny Garrison 84-80-164


Fourth Flight
1-Lee Zettlemoyer 86-81-167
2-Mike Henry 86-84-170
3-Bill Eisenman 85-86-171
4-Dale Bramlett 89-84-173




FIRST ROUND RESULTS

"Ramey blisters Furman, field with opening 67"

Doug Ramey of Greer fired a five under par 67 Saturday at Furman University Golf Course to take a five shot lead in the 2nd annual Upstate Mid-Amateur Golf Tournament. Ramey turned at one under, then shot 32 on the tough Furman back nine. He leads Tim Garrettt, who shot par 72. Following Garrett at 73, are Steven Lindsay and Charlie Askins. Six golfers shot 75 to round out the Championship Flight. They are Rick Cobb, Bill Bowers, Mike Gravley, Geno Berchiatti, Chris Manzi, and Shane Plumley. Full field scores and Sunday pairings are below.

The flight breakdown is as follows:
Championship 67-75
First Flight 76-79
Second Flight 80-82
Third Flight 83-84
Fourth Flight 85 & up









2001 Upstate Mid-Am


Final Results, '01 Upstate Mid-Amateur

GREENVILLE- Bill Duncan of Travelers Rest won the First Annual Upstate Mid-Amateur Golf Tournament at Bonnie Brae Golf Club on the second hole of a sudden death playoff Sunday over Greenville's Terry Willis. The two players tied at four under par 140 for the 36 hole event. Duncan fired rounds of two under par 70 both Saturday and Sunday. Willis, who shared the lead after Saturday's round with a three under 69, came back with a 71 on Sunday. Duncan held a one shot advantage going to the par 5 18th, but Willis rolled in a ten foot birdie to force the playoff. Doug Tooke and Jay Belk, both of Greenville, finished at three under 141, while John Black of Greer, and Greenville's Jay Bell tied for fifth at 143.

Final Results:
CHAMPIONSHIP FLIGHT
1- Bill Duncan 70-70-140**
2- Terry Willis 69-71-140
3- Doug Tooke 72-69-141
4- Jay Belk 71-70- 141
5- John Black 71-72- 143
Jay Bell 71-72- 143
FIRST FLIGHT
1- Sam Postich 147
2- Jim Wilson 148
3- Randy Donovan 148
4- Barry Beeks 151
SECOND FLIGHT
1- Rob Johnson 152
2- Dave Bradowsky 153
3- Fred Cannon 154
4- John Hackett 155
THIRD FLIGHT FOURTH FLIGHT
1- Doug Brown 158 1- Jack Sparkman 164
2- Todd Reid 158 2- Bob Adams 168
3- Todd Remillard 159 3- Jerry Petty 167
4- Marty Huguet 161 4- Tim Roper 175








---
| Past Champions | Upstate Two Man Team Championships | Upstate Mid-Amateur | Hall of Fame |
---
| Membership Benefits | Join the Upstate Golf Club!! | Events Schedule | About Us & History | Allison Cup (Team Competition) | Upstate Senior / Mid-Am Championships |
---
| Return Home | Contact Us | Downloads & Applications | Greenville County Golf Association | Greenville County Amateur | The Cyder Cup Matches | Upstate Amateur Championship |